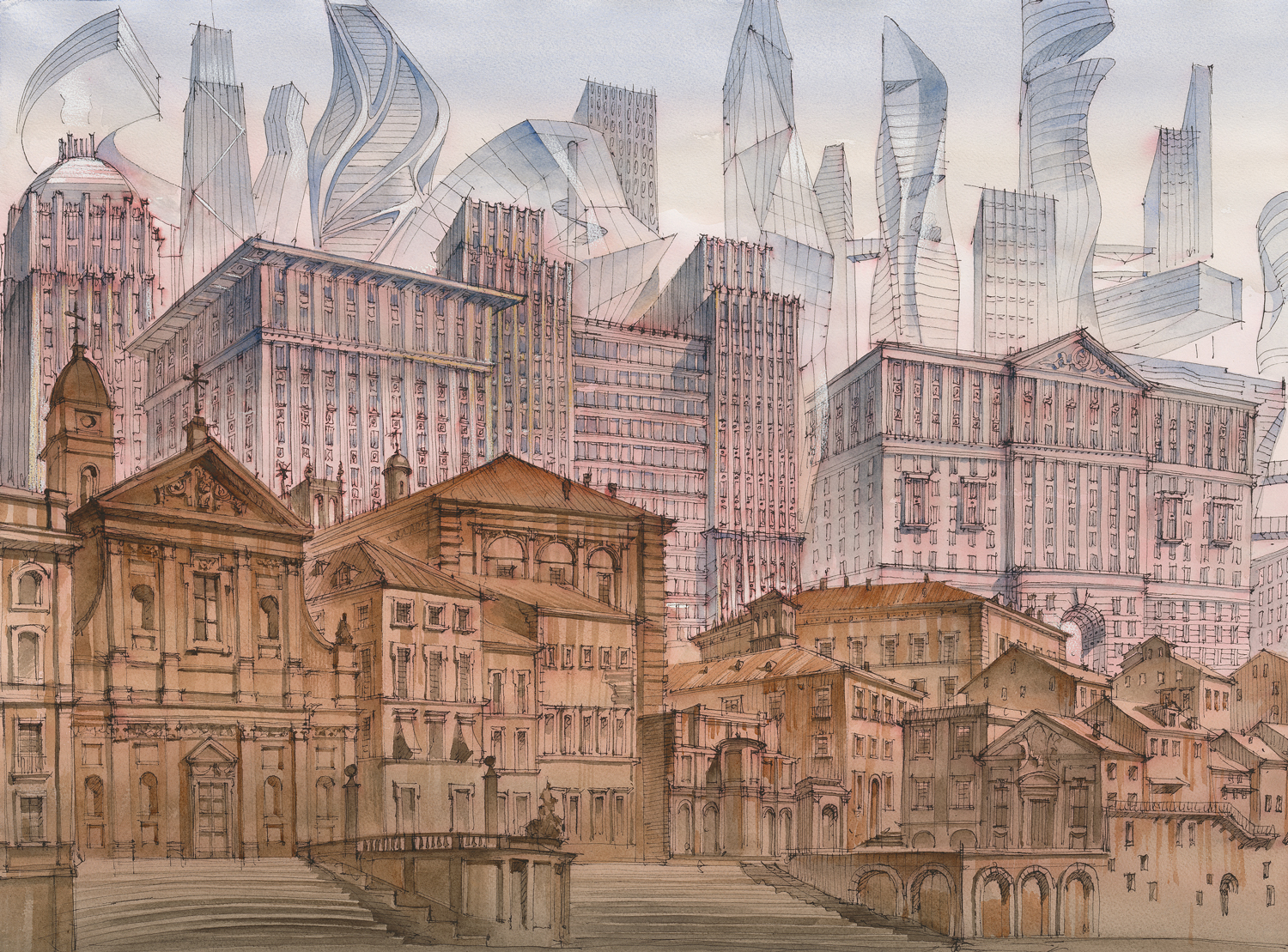 Author of architectural projects in several European cities, Serguei Tchoban (Leningrad, now St. Petersburg, 1962) uses drawing as a form of reflection on contemporary and future urban contexts. The artist reimagines the legacy of Italian architect and printmaker Giovanni Battista Piranesi (Mogliano Veneto, 1920 – Rome, 1778), known for his dedication to the design of Italian monuments, from antiquity and the Baroque era. In several works in this exhibition, Tchoban, who collects architectural drawings, imagines futuristic structures based on Piranesi's etchings. In 2013, he created the Tchoban Foundation with the aim of encouraging interest in this line of work. It is housed at the Museum of Architectural Drawing in Berlin.
As an architect, Tchoban is known for his use of cutting-edge materials and technologies, as well as environmentally sustainable solutions. His drawings show contemporary, occasionally fantastic- looking buildings coexisting with historical buildings in Berlin, Moscow, or in recently destroyed Ukrainian cities. With a graphic language reminiscent of comic books, his visions of the future have a dystopian character. In a grim, oppressive atmosphere, his drawings depict individuals moving between monumental buildings in a regimented manner.
By presenting Serguei Tchoban: Mirroring Time, MAC USP ratifies its interest in the critical discussion of the relations between art and architecture, as well as the relationship between present and past art.
Concept by Tereza de Arruda
OPENING:

March 11, 2023


VENUE:

MAC USP


OPENING HOURS:

Tuesday to Sunday; 10 AM – 9 PM


ADDRESS:

Av. Pedro Álvares Cabral, 1301 – São Paulo-SP, Brazil