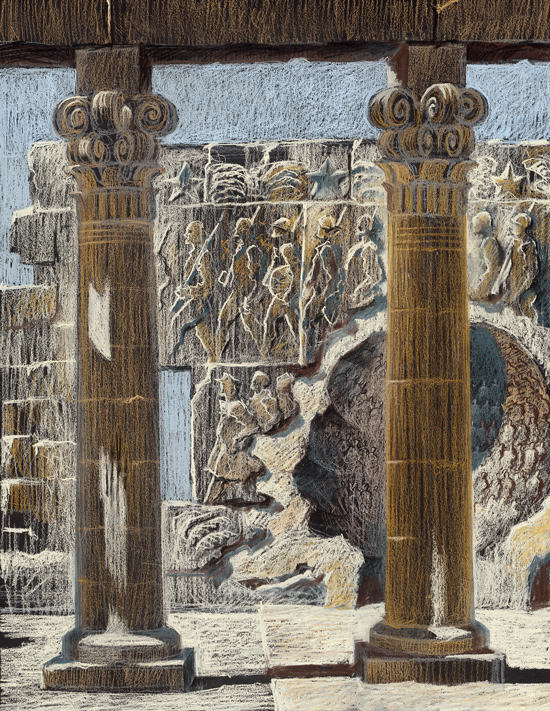 Portal #2 is the edition of the collective work initially presented at Schaufenster in Berlin in November 2020. In order to underline the relationship between the two realities, the subtitle Naples / Berlin identifies the connection, the space-time portal that is intended to cross and ideally unite the two cultural and artistic contexts among the most dynamic and prolific in Europe in recent decades. The exhibition in Naples is curated by Anna Nezhnaya, young emerging artist born in Moscow, who lives and works in Berlin. For the occasion to bring the show to Naples she is joined by Fabia Mendoza, Berlin artist and author (among the most recent projects) of the musical and political award-winning documentary The White House on the artistic action The Rosa Parks House of her husband Ryan.
For Portal #2, emerging Berlin artists are paired with established names in the international art scene such as John Isaacs, Ryan Mendoza, Andrej Golder, Gregor Hildebrandt and Sergei Tchoban. In search of the "Portal" that Alice in Wonderland once upon a time found in the mirror, Portal #2 – Naples / Berlin leads us into a dream world that couldn't be more alive than Naples and more specific to Berlin.
Also, part of the Portal #2 project is a "satellite" event, an exhibition side-project to present the solo show of director and photographer Lennart Brede (Germany) entitled Because You Want To Be Loved. Still curated by Anna Nezhnaya and Fabia Mendoza, the photographic exhibition for OFF / Portal #2 can be visited at the historic Spazio NEA of Luigi Solito (via Costantinopoli 53, piazza Bellini 59) on the same days and in the same way: opening Saturday, May 15 (from 10 am to 8 pm) in compliance with the regulations in force to ensure the maximum safety and health of visitors, to avoid assemblages and ensure due distancing.
Virginia Cuccaro's society for the arts of promotes the gallery and the production of the exhibition.
Curators: Fabia Mendoza, Anna Nezhnaya
Artists:
Minor Alexander, Kristina Bekker, Diego Cibelli, Katya Quel Elizarova, Wolfgang Flad, Lukas Glinkowski, Andrej Golder, Gregor Hildebrandt, John Isaacs, Ryan Mendoza, Anna Nezhnaya, Emmanuel Pidré, Tim Plamper, Frédéric Platéus, Alexander Skorobogatov, Sergei Tchoban
OPENING:

May 15, 2021


VENUE:

Luigi Solito Galleria Contemporanea – former Lanificio complex


OPENING HOURS:

From Monday to Friday 9 am to 6 pm, Saturday and Sunday by appointment: info@luigisolito.it


ADDRESS:

Piazza Enrico De Nicola 46, Naples